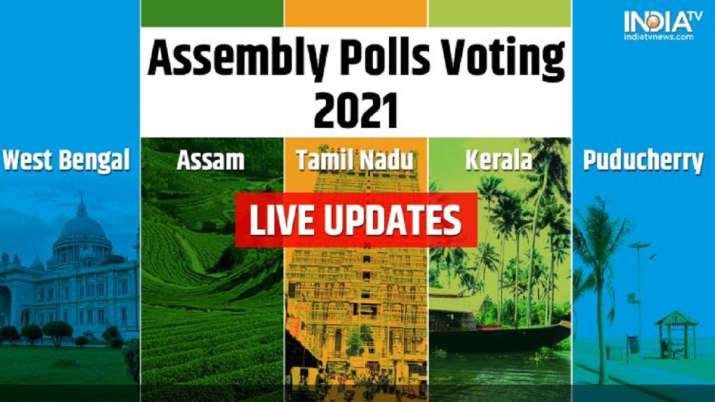 Voting began across 475 seats in West Bengal, Assam, Tamil Nadu, Kerala, and Puducherry today, at 7 am. While Bengal and Tamil Nadu have been witnessing high-octane political battles, Assam is ready to wrap up the last phase of polls. Kerala has been a host to marathon rallies and mammoth roadshows, while the Puducherry poll campaign was marred by controversies such as allegations of Aadhaar data usage by the Bharatiya Janata Party (BJP) and no ticket to former CM V Narayanaswamy by the Congress.
Assembly Election 2021: LIVE Updates
05:00 pm: As polling in assembly elections is underway, Assam has recorded 68.31%, Kerala 58.77%, Puducherry 66.58%, Tamil Nadu 54.10% and Bengal 68.04%, so far.
03:59 pm: Media persons and volunteers alleged that they were pushed out by security personnel from the premises of a polling booth in Tarakeswar, Hooghly.
Speaking on the development, BJP's Swapan Das Gupta said, "there is an accusation that a senior police officer is cutting TMC voters. They've hit many people & abused women with an idea to ensure that people must leave. I find it objectionable that there are West Bengal Police personnel without any name tags."
03:26 pm: Voter turnout in till 1 pm: Assam 53.23%, Kerala 47.28%, Puducherry 53.76%, Tamil Nadu 39.00% and West Bengal 53.89%
02:23 pm: Prime Minister Narendra Modi on Tuesday slammed West Bengal Chief Minister Mamata Banerjee for seeking en bloc voting by Muslims for the TMC and said had his party made a similar appeal to Hindus, it would have been criticised and censored. Asserting that Banerjee has problems with people sporting a Tilak and wearing saffron, Modi said the TMC supremo's appeal to the Muslims reflects that her "minority votes are slipping out of her hands."
02:09 pm: Deputy CM O Panneerselvam casts his votes for Tamil Nadu Assembly polls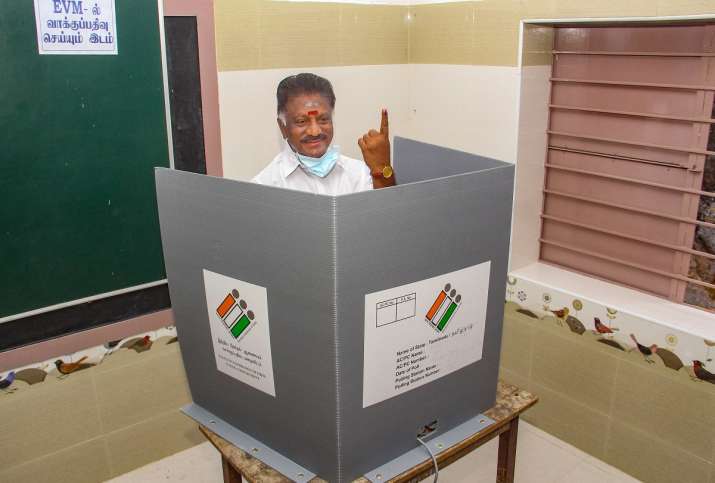 02:06 pm: Guwahati: Chief Electoral Officer Nitin Khade after casting his vote for Assam Assembly polls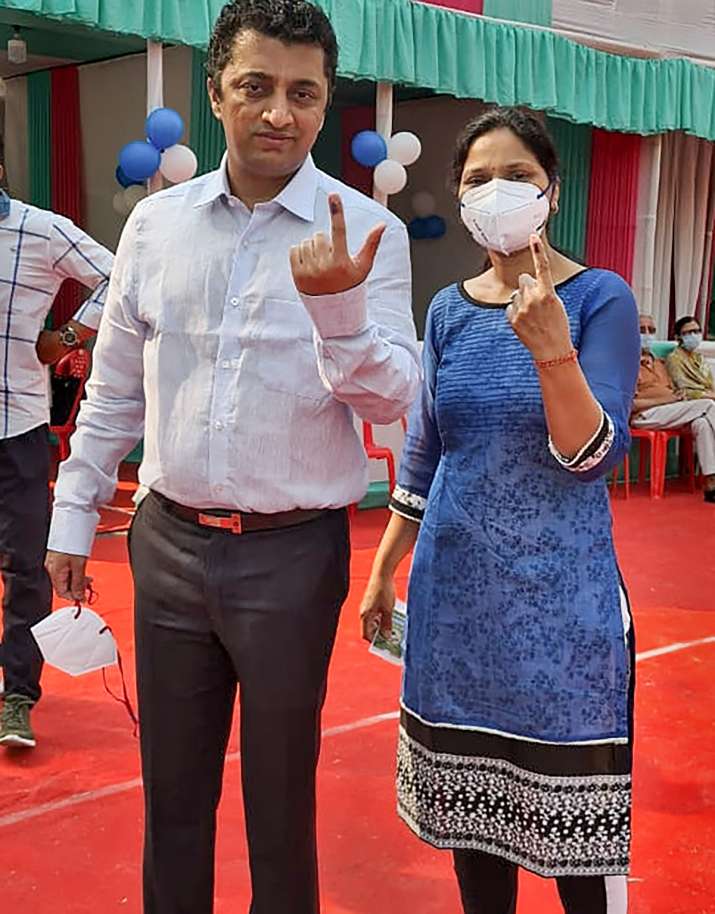 02:00 pm: BJP will win 22 out of 40 seats in the third and final phase of Assembly polls in Assam, claimed State Minister Himanta Biswa Sarma on Tuesday. "There are 40 seats in this phase, we are expecting to win on 22 of them, number can be higher. In this election, we will win more seats," Sarma said
01:56 pm: Union Minister V Muraleedharan casts vote at Kottaram booth in Ulloor, Thiruvananthapuram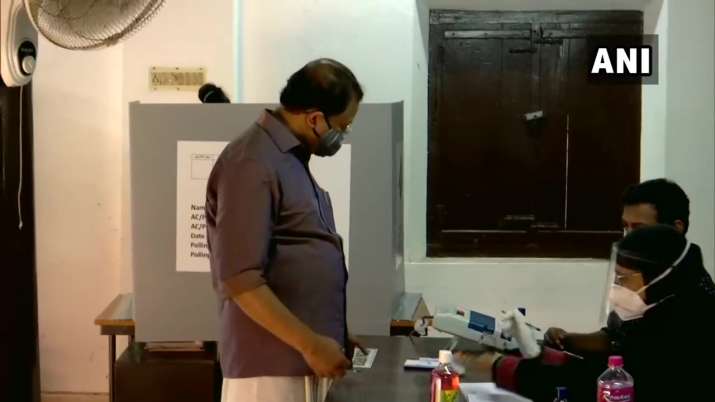 01:51 pm: TMC's Derek O'Brien writes to Election Commission, alleges goons of BJP attacked TMC candidate Sujata Mondal at Arandi-I booth no.263 Mahallapara, during which her personal security officer has suffered injuries on head and is in a critical state. CRPF personnel were silent spectators, he says. Derek O'Brien further calls upon EC to apprehend the goons and ensure that no corrupt practices take place, ensure the safety of workers/members, ensure that polls are conducted freely and fairly
01:47 pm: BJP workers forcibly occupying polling booths, attacking TMC activists: Bengal CM Mamata Banerjee tells rally
01:45 pm: Kamal Haasan gives a petition to South Coimbatore election officer alleging that BJP has been distributing tokens as a promise for giving money after the election on their victory
01:42 pm: Actor Mammootty cast his vote for Kerala elections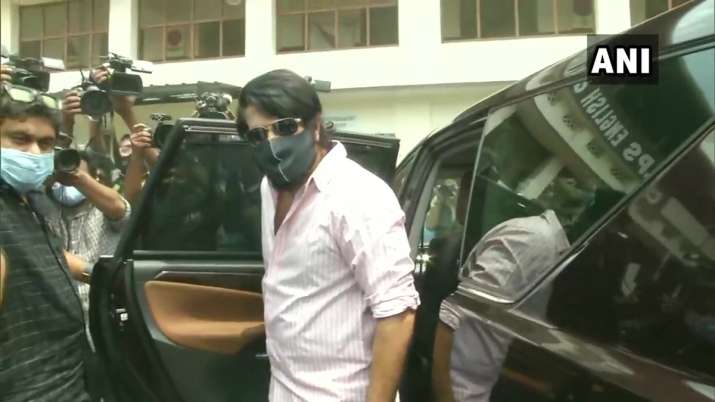 01:37 pm: Voter turnout till 1 pm
Assam – 53.23%
Kerala – 47.28%
Puducherry – 53.76%
Tamil Nadu – 39.00%
West Bengal – 53.89%
01:31 pm: Assamese actress Prastuti Parashar casts her vote in Assam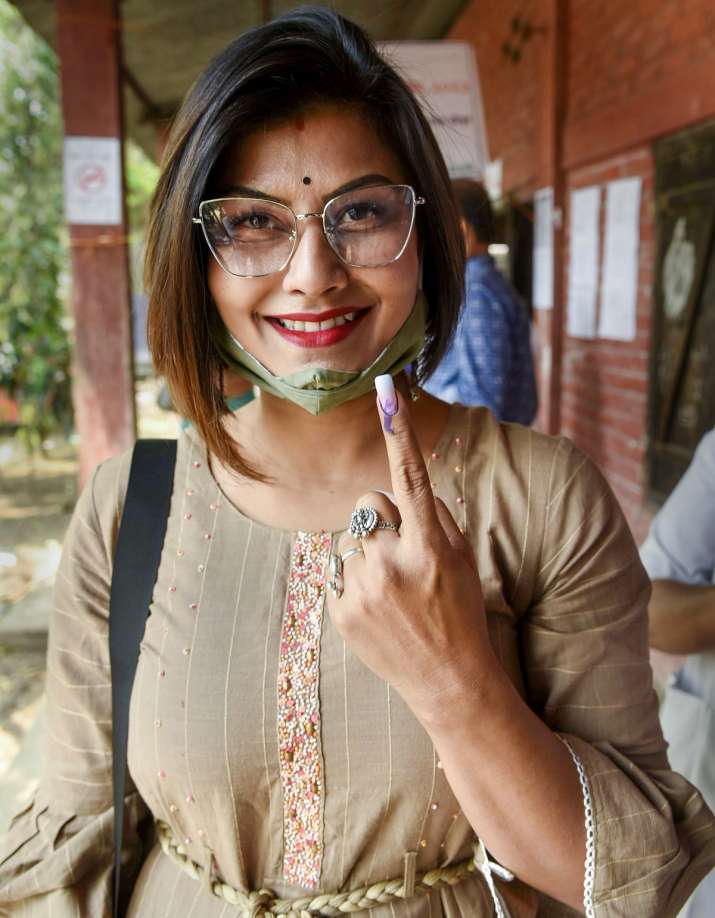 01:29 pm: The BJP, which opened its account in the Kerala assembly in 2016 with one seat, will get at least 10 seats in the House this time, party's Karnataka president Nalin Kumar Kateel MP said on Tuesday. BJP Kerala state president K Surendran is the party candidate from Manjeshwar
01:14 pm: BJP candidate Ranjeet Kumar Dass, his family members cast casting votes in Assam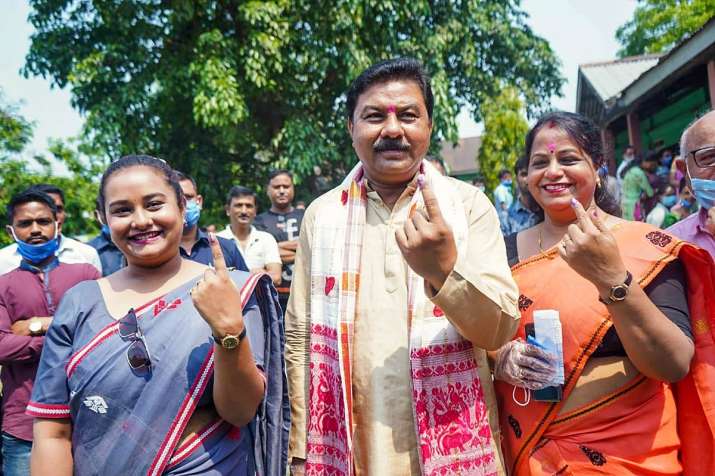 01:11 pm: Actor Kopil Bora casts his vote in Guwahati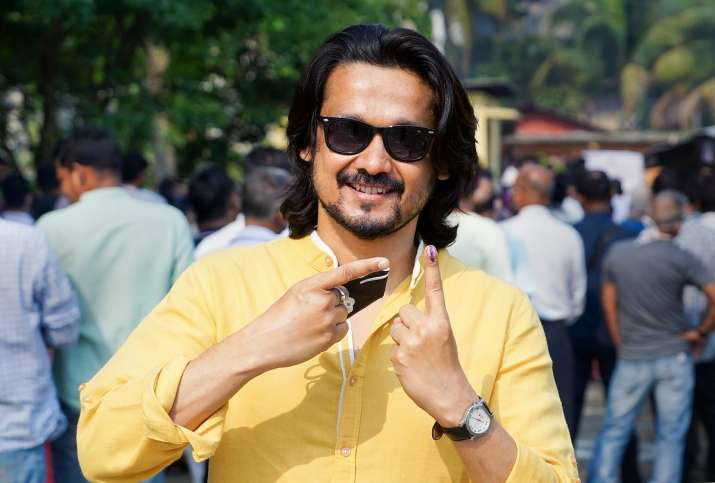 01:08 pm: West Bengal: Asst Sector Officers of Sec 17, 177 – Uluberia North Assembly Constituency, Tapan Kumar Sarkar, Sanjib Majumdar, Mithun Chakraborty suspended for gross violation of ECI guidelines by taking reserve EVMs to their relatives' house on April 5
12:56 pm: Marumalarchi Dravida Munnetra Kazhagam (MDMK) Chief Vaiko casts his vote at Kalingapatty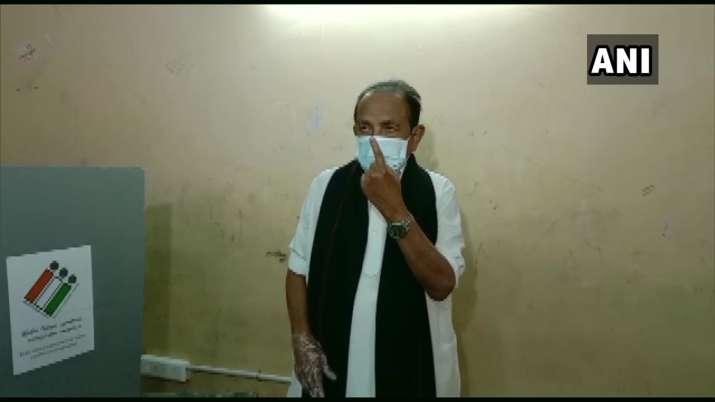 12:44 pm: Sporadic incidents of violence were reported on Tuesday in some areas where voting is underway in the third phase of the West Bengal assembly elections, even as the overall situation by and large remained peaceful with 34.71 per cent turnout recorded till 11 am, officials said
12:23 pm: Voter turnout till 12 pm
Assam – 33.18%
Kerala – 31.62%
Puducherry – 35.71%
Tamil Nadu – 22.92%
West Bengal – 34.71%
12:19 pm: Congress MP Shashi Tharoor casts his vote at a polling station in Thiruvananthapuram, Kerala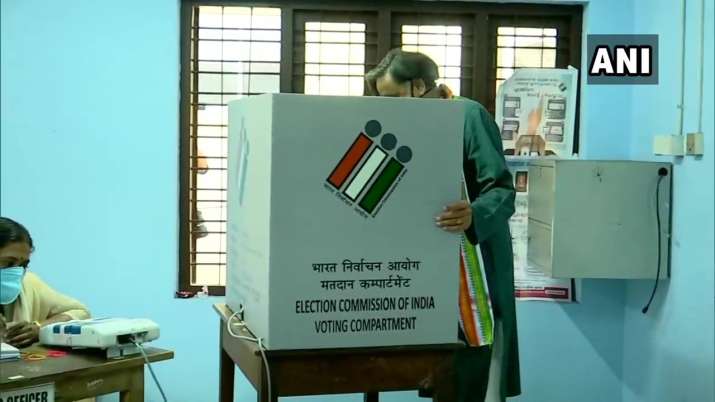 12:16 pm: Tamil Nadu recorded 26.29 per cent voting till 11 am on Tuesday, Chief Electoral Officer Satyabrata Sahoo has said. Namakkal district recorded the highest of 28.33 per cent and Tirunelveli the lowest at 20.98. Chennai's polling percentage till 11 am stood at 23.67 per cent and there have been "no untoward incidents so far" from across the state, the CEO said
12:13 pm: CID's SI Sujit Chakraborty, who was deputed in West Bengal's Howrah for law and order, has been suspended for gross negligence and callous activity in performing duty as sector officer under Sector no 17, Rajapur PS. Three home guards of Howrah have also been temporarily demobilised for their failure in performing their duty during assembly elections
12:04 pm: Clashes erupt between TMC and BJP supporters in West Bengal's Arambag, as voting in assembly elections is underway
11:57 am: West Bengal records 34.71 per cent voter turnout till 11 am in 31 seats where polling is underway for third phase, say officials
11:55 am: Assam records 33.18 per cent voter turnout till 11 am, in 40 assembly seats where polling is underway, say officials
11:50 am: There're 40 seats in this phase, we are expecting to win on 22 of them, the number can be higher. In this election, we will win more seats. Last time we had won 84 seats, we are expecting at least 90 seats this time: Assam Minister & BJP candidate Himanta Biswa Sarma from Jalukbari
11:28 am: Congress leader AK Antony cast his vote at Government High School, Jagathy in Thiruvananthapuram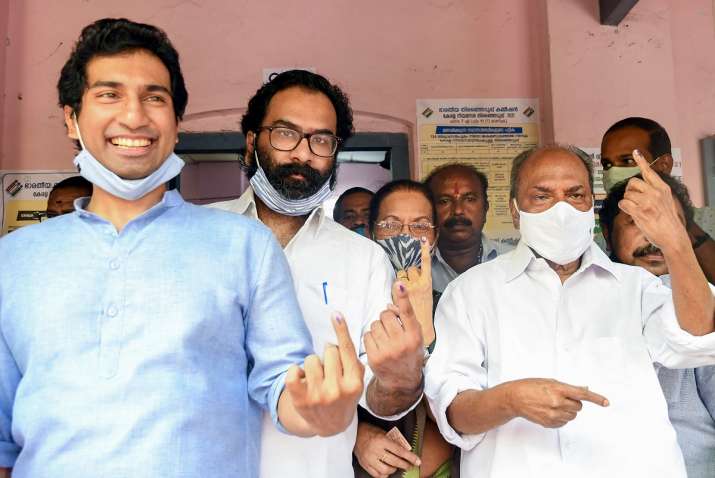 11:17 am: State Police is not influencing Quick Response Teams, they are moving independently. Elections are being conducted in a free and fair manner: Santanu Sen, SDPO, Diamond Harbour, South 24 Paraganas, after allegations that TMC goons were not allowing people to cast their votes
11:02 am: Assam Minister and BJP leader Himanta Biswa Sarma casts his vote at a polling station in Amingaon, Guwahati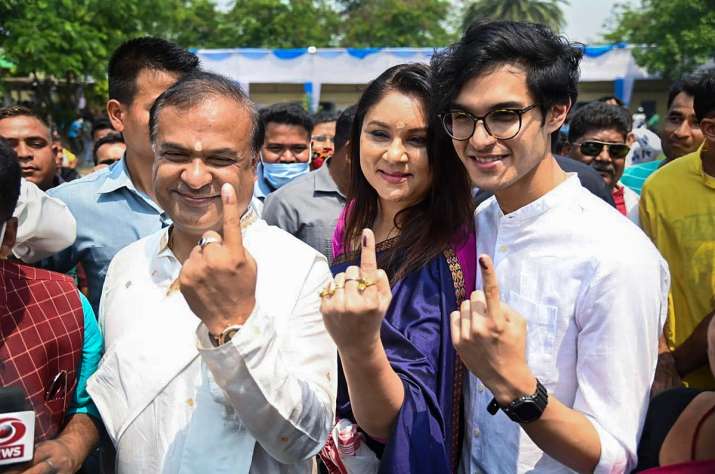 10:54 am: TBP jawan carries a senior citizen to help her reach a polling booth in Kulpi, Sundarban to cast her vote for the third phase of West Bengal polls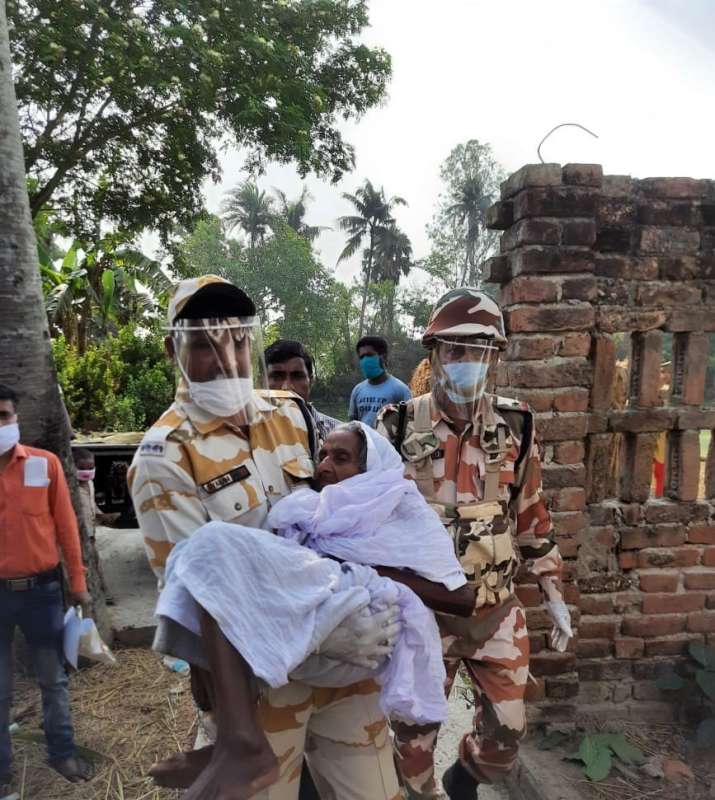 10:51 am: ITBP jawans guard polling booths in Dakshin Barasat, South 24 Parganas
10:48 am: Tamil Nadu Chief Minister Edappadi K Palaniswami casts his vote at a polling station in Siluvampalayam, Eddapadi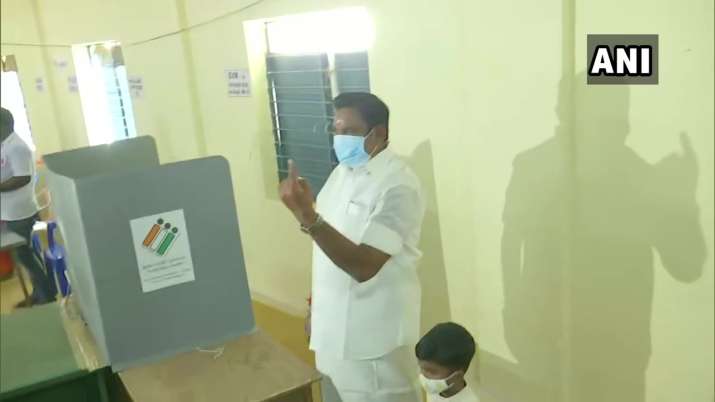 10:42 am: Today is 3rd phase of polling in West Bengal and yet another TMC attempt has been exposed. Last night in Uluberia, from the residence of TMC leader Gautam Ghosh, 4 VVPATs and EVMs were found and confiscated. Machines were brought by car which was on election duty. It is more serious because today is voting. EC has taken action not to use those machines and to suspend the officer. But this may be a bigger thing than it seems. So we demand that there should be a full inquiry of these VVPATs and EVMs found in his house: Union Minister Prakash Javadekar
10:39 am: Five people arrested after officers under Siliguri Metropolitan Police (SMP) recovered two crude bombs from a grocery shop at Ashighar, last night
10:36 am: We have found people from DMK distributing money to voters. We have complained to the Election Commission. DMK would want to win by hook or by crook: Khushbu Sundar, BJP candidate from Thousand Lights Assembly constituency, Chennai
10:28 am: Kerala Health Minister KK Shailaja casts her vote in Kannur, says, "The COVID-19 mortality rate in Kerala is 0.4%. We brought many social welfare measures during COVID-19. People are seeing all this and they will vote for us."
10:26 am: Tamil Nadu: Actor Vijay rides a bicycle to the polling station at Vels International Pre School, Neelankarai in Chennai
10:24 am: Congress leader Karti Chidambaram casts his vote at polling booth number 276 in Tiruppathur, Sivaganga district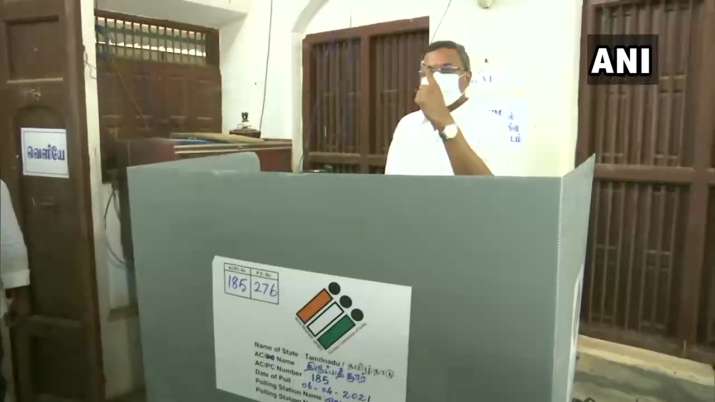 10:20 am: Kerala BJP President K Surendran and his family cast their votes in Modakkallur, Kozhikode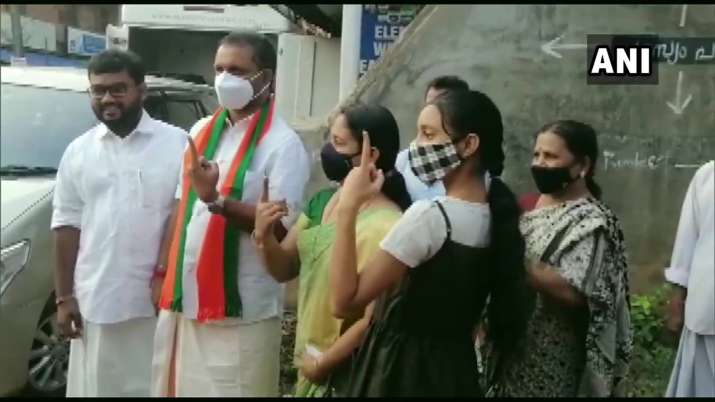 10:14 am: Governor of Telangana and Lieutenant Governor of Puducherry, Dr Tamilisai Soundararajan casts her vote at a polling station in Virugambakkam, Chennai
10:03 am: Satyabrata Sahoo, Tamil Nadu Chief Electoral Officer says the state recorded 13.80% voter turnout till 9 am
09:51 am: Voting underway at polling station in St. Joseph's Higher Secondary School, Thiruvananthapuram
09:45 am: Polling percentage
Assam – 12.83%
Puducherry – 15.63%
09:28 am: Deputy CM O. Panneerselvam casts his vote in Periyakulam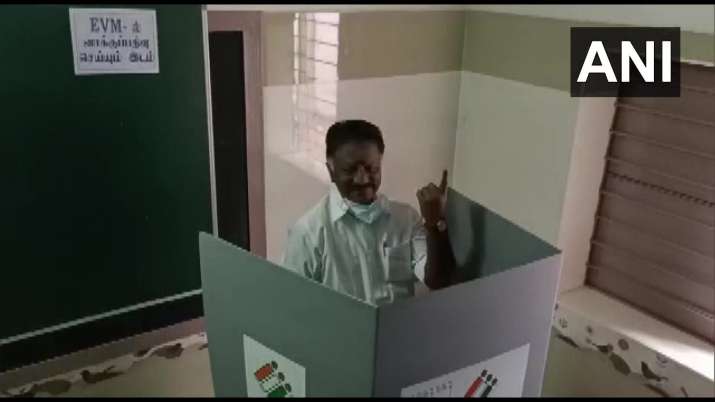 09:16 am: Approximate voter turnout trend till 9 am
West Bengal – 4.88%
Kerala – 3.21%
Tamil Nadu – 13.80%
Assam – 0.93%
Puducherry – 0.38%
09:13 am: TMC goons are not allowing people to cast their votes at booth no. 180, 143 Dagira Baduldanga. I have complained to the Election Commission officials: Dipak Haldar, BJP candidate from Diamond Harbour, South 24 Parganas
09:11 am: All allegations (by BJP) are false. When a party weakens, it gives baseless statements. It is they who facilitate hooliganism, they bring money and people from outside. Whatever they say is a lie. Voters in South 24 Parganas is with TMC and Mamata Banerjee: Saokat Molla, TMC MLA
09:06 am: Wife of a BJP supporter allegedly killed in West Bengal's Hooghly district, hours before polling began in the area. The incident happened in the politically sensitive Goghat area of the district on Monday around 11 pm
09:03 am: Former Puducherry CM and Congress leader V.Narayanasamy casts his vote in Puducherry assembly elections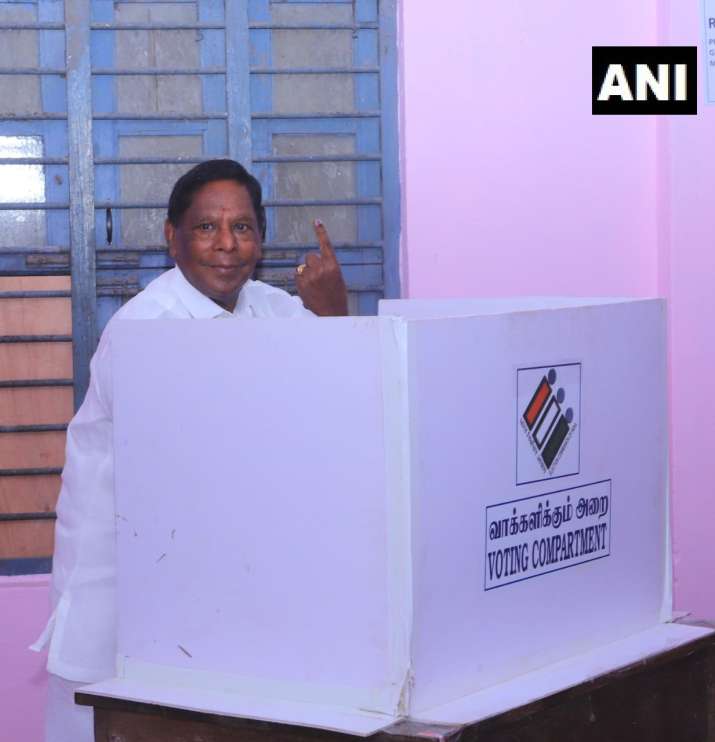 09:00 am: Thermal scanning of voters being done, hand sanitiser and hand gloves being provided to them
08:56 am: The next course of action is to educate people about this cash distribution, how disastrous it is for their lives and democracy. The money dolling out politicians put the blame on the people. This is a vicious circle and we are trying to make it virtuous, says Kamal Haasan
08:49 am: Opposition leader Ramesh Chennithala casts his vote at booth number 51A in Kerala's Haripad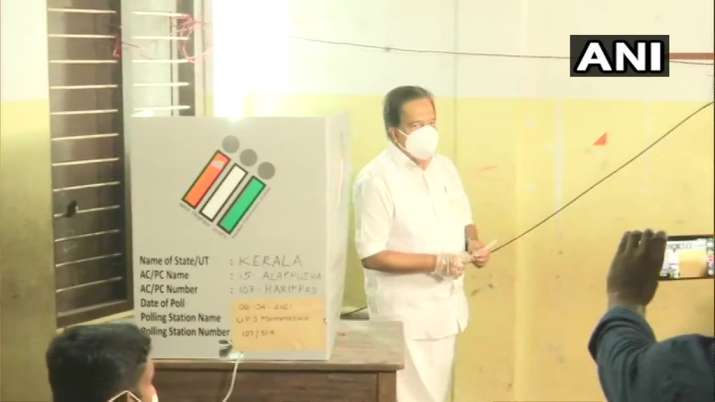 08:40 am: EVMs and VVPATs were found at the residence of a TMC leader in Bengal's Uluberia. Election Commission says sector officer has been suspended. "It was a reserved EVM that has been removed from the election process. Severe action will be taken against all involved," says EC
08:36 am: I appeal to all to come out and cast their votes, says DMK's Udhayanidhi Stalin who is contesting from the Chepauk assembly constituency
08:34 am: Bombing, firing reported at Uluberia Uttar in West Bengal's Howrah. The TMC claims ISF tried to capture booth number 44
08:27 am: Polling underway in Coimbatore
08:26 am: I have been getting reports of high voter turnout from across the State. This vote is against the ruling party, says DMK President MK Stalin, in Chennai
08:23 am: "Do cast your votes today- India is counting on you," tweets Rahul Gandhi
08:20 am: Kannur: Kerala CM Pinarayi Vijayan arrives at a polling booth in Pinarayi to cast his vote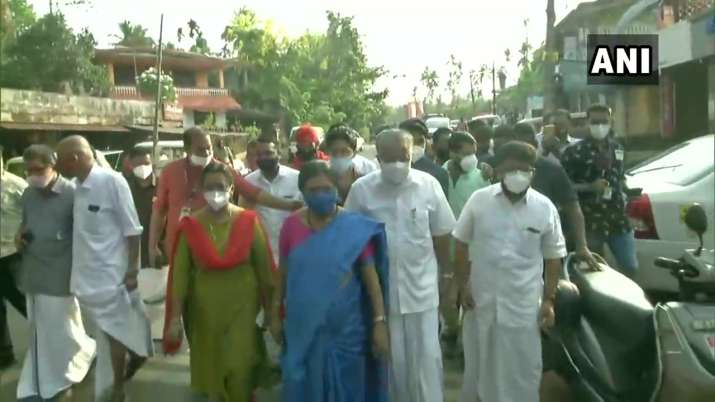 08:16 am: DMK President MK Stalin casts his vote at Siet College, Teynampet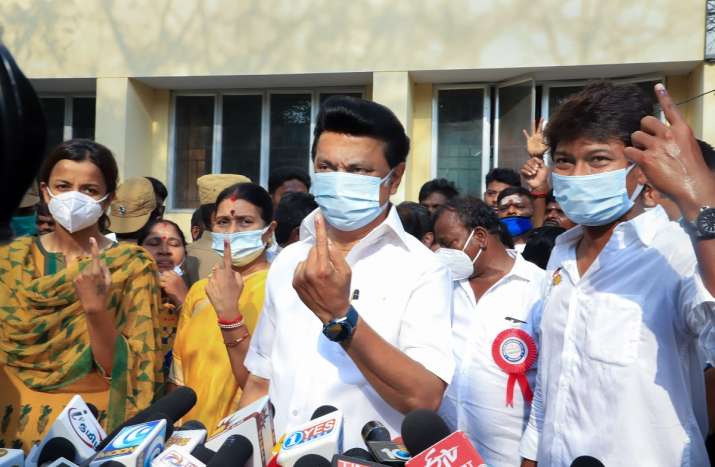 08:11 am: An LDF supporter arrives at a polling booth in Pinarayi in Kannur to cast his vote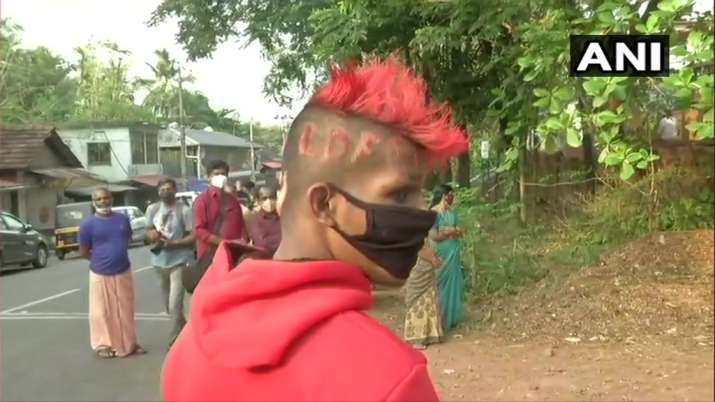 08:08 am: PM Narendra Modi urges people to vote in record numbers. "Elections are taking place in Assam, Kerala, Puducherry, Tamil Nadu, and West Bengal. I request the people in these places to vote in record numbers, particularly the young voters," tweeted Prime Minister Modi.
08:02 am: NR Congress chief N Rangaswamy visits Appa Paithiyam Swamy Temple
07:55 am: BJP candidate from Diamond Harbour in South 24 Parganas, Dipak Haldar casts his vote at Abdalpur FP Primary School in the district for the third phase of Bengal polls 2021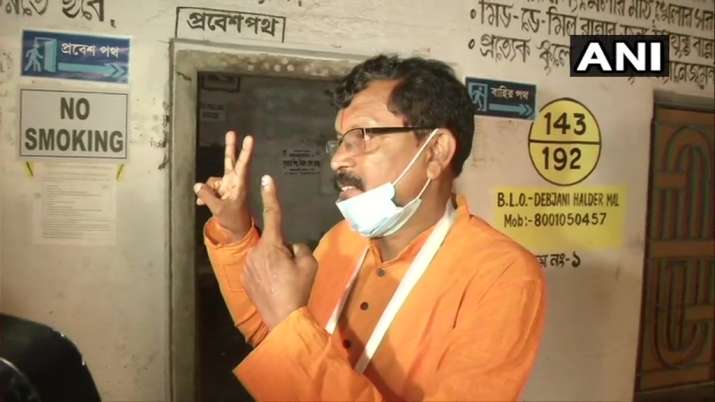 07:48 am: Makkal Needhi Maiam chief Kamal Haasan casts his vote at Chennai High School, Teynampet in Chennai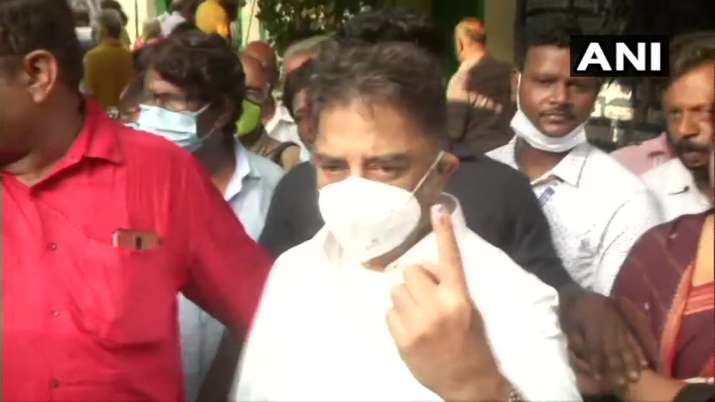 07:43 am: Our secular progressive alliance is all set for a landslide victory as people of Tamil Nadu want a change, says P Chidambaram
07:39 am: Senior Congress leader P Chidambaram casts vote in polling booth Chittal Achi Memorial High School in Kandanur, Sivaganga district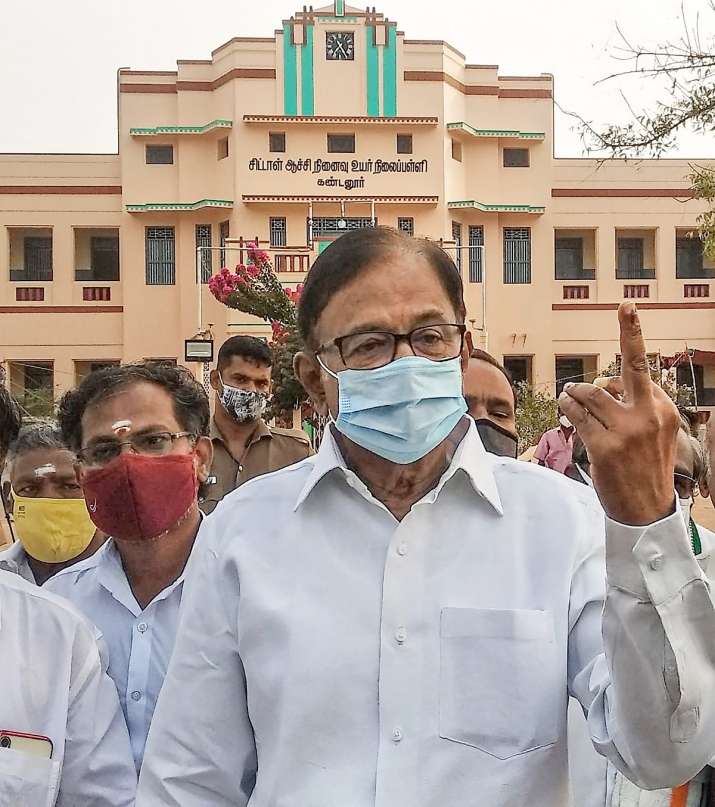 07:32 am: Chennai: Actor Rajinikanth casts vote at a polling booth in Stella Maris of Thousand Lights constituency
07:27 am: West Bengal: Polling yet to begin at booth number 129 of AC 200 in Arambag, Hooghly
07:19 am: It is a new experience but I'm quietly confident. I don't necessarily have to show my confidence. In terms of support I've got from people, I think I'll win: Swapan Dasgupta, BJP candidate from West Bengal's Tarakeshwar, who tendered his resignation as Rajya Sabha MP last month
07:17 am: BJP will have an impressive show this time, there's no doubt about it. I will win from the Palakkad constituency with a big margin. My entry into BJP has given a different image to the party: 'Metro Man' E Sreedharan, BJP candidate from Assam
07:11 am: Two senior citizens cast their votes for the third and final phase of Assam assembly elections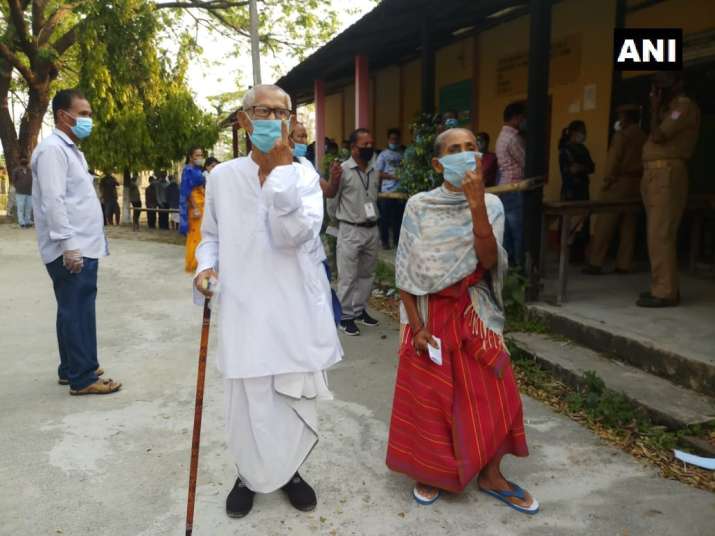 07:07 am: 'Metro Man' E Sreedharan casts vote at a polling booth in Ponnani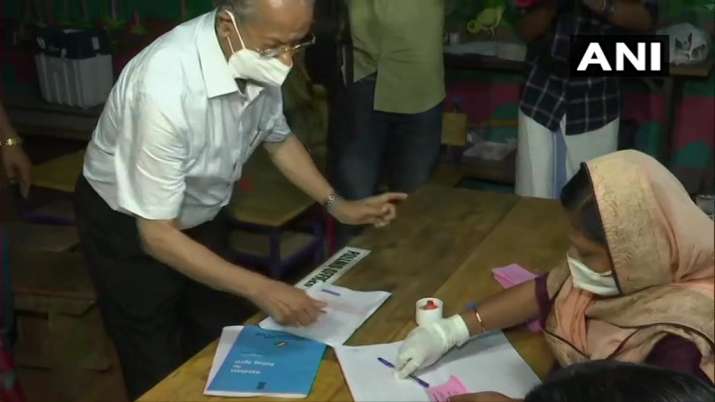 07:04 am: Kerala: 'Metro Man' E Sreedharan arrives at a polling station in Ponnani to cast his vote
07:00 am: Voting on 475 seats begins in Bengal, Assam, Tamil Nadu, Kerala, Puducherry
06:58 am: West Bengal to vote today in the third-phase today
06:55 am: Voting for the single-phase of Kerala elections to begin shortly
06:51 am: Chennai: Preparations underway at DG Vaishnav College in Anna Nagar constituency
06:49 am: Guwahati: Scores of voters wait in a queue outside polling station 211, 212 A, 212, 213A, 215 and 215 A at the Soil office
06:46 am: Puducherry to vote today in the single-phase Assembly elections
06:41 am: Assam: Voters queue outside Bengali LP & High School in Amingaon
West Bengal
The third phase of voting commenced in West Bengal on Tuesday amid tight security arrangements across 31 constituencies. The voting began at 7 am. In order to attract voters to cast their votes, the Election Commission officials came out with rap songs, radio jingles, etc that are played at various places across the state. A total of 832 companies of central security forces have been deployed in the constituencies to ensure a peaceful election. A total of 78,52,425 electors will take part in the third phase of the polls. Of these, 2,30,055 people will be voting for the first time. A total of 1,26,148 voters fall in the age group of above 80 years.
Assam
Polling for the third and final phase of the tea-garden state of Assam began on Tuesday morning with security arrangements in place. As many as 320 Central Armed Police Forces (CAPF) companies have been deployed to ensure a free and fair election in the state. Out of these 320 CAPF companies, 30 are reserved for strong room duty and others for law and order duties. These companies include the Central Armed Police Force (CRPF), State Armed Police (SAP) of other states and Assam. One constable and one home guard have also been deployed at each polling station to maintain law and order, according to the Election Commission.
Tamil Nadu
Polling in 234 Assembly seats in Tamil Nadu went underway at 7 am on Tuesday. A total of 3998 candidates including heavyweights like Chief Minister K Palaniswami, Deputy CM O Panneerselvam, DMK President MK Stalin, AMMK founder TTV Dhinakaran and Makkal Needhi Maiam President Kamal Haasan are in the fray. The Election Commission will be conducting the polls with due COVID-19 health protocols such as checking the temperature of voters. People started lining up early in the morning to cast their votes. Actors Rajinikanth and Ajith Kumar were among the early voters in the city. While the ruling AIADMK is seeking a third term, Stalin-led DMK is making a strong bid to come back to power after a decade of a stint in opposition.
Kerala
Elections to choose members of the 140-seat Kerala Legislative Assembly commenced in the state on Tuesday with a three-cornered fight between the incumbent Left Democratic Front (LDF) which hopes for continuity of term, the Congress-led United Democratic Front (UDF) and the Bharatiya Janata Party (BJP)-led National Democratic Alliance (NDA). A total of 2.74 crore voters are set to exercise their franchise to decide the fate of 957 candidates in the fray. Voting began at 7 am and will end at 6 pm. According to Election Commission, the total electorate in the state includes 1,32,83,724 male voters, 1,41,62,025 female voters and 290 transgenders. These include 87,318 expatriate men, 6,086 women and 11 transgenders.
Puducherry
Puducherry and its outlying regions of Karaikal, Mahe and Yanam went to Assembly polls on Tuesday in a single phase. A total of 10,04,507 electors will exercise their franchise to decide the fate of 324 candidates in the fray across 30 Assembly segments including five reserved constituencies. Of the 33 Assembly seats, three are nominated. Security arrangements are being closely being monitored. A total of 34 companies of Central Armed Police Forces (CAPFs) have been deployed in the Union Territory (UT). Along with that, the Election Commission (EC) has also constituted 105 flying squads, 105 static surveillance teams, 26 rolling static surveillance teams, and 35 video surveillance teams to ensure the free and fair execution of polling.