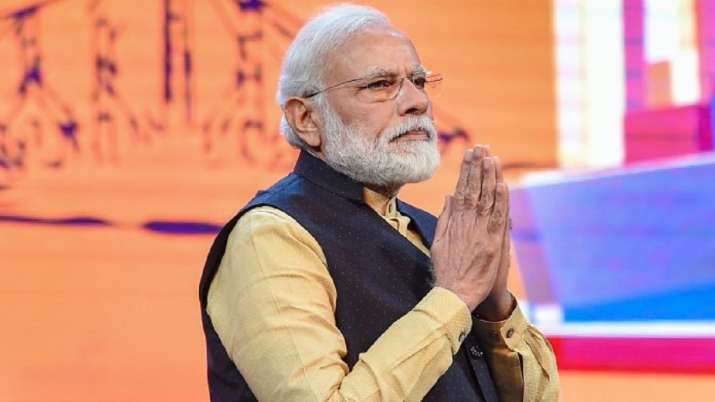 Prime Minister Narendra Modi is presently addressing a mega rally at Kolkata's Brigade Parade Ground. This is PM Modi's first public rally in the state after the announcement of the dates for eight-phased Assembly polls for 294 constituencies in West Bengal. The saffron party has already announced its first list of 57 candidates for the polls. BJP functionaries including Kailash Vijayvargiya, national General Secretary, Mukul Roy national Vice-President, Sanjay Singh, General Secretary and Swapan Dasgupta, MP, Rajya Sabha had been keeping a close watch on the preparations at Brigade Parade Ground, Kolkata where PM Modi is addressing the public meeting.
Here are the LIVE updates
03:05 pm: You know very well how the democratic system has been destroyed here. BJP will strengthen this system. We will bring the change to re-establish public belief in govt systems, in the police, and the administration: PM Modi
03:02 pm: I have come here to make you believe that we'll work hard for farmers, businessmen & the development of sisters and daughters. We will live every moment to fulfill your dreams: PM Modi
02:57 pm: I have come here to make you believe in 'Asol Poribortan'. Belief in Bengal's development, in change of Bengal's situation, in increasing investment & industries in Bengal, & in the reconstruction of Bengal: PM Modi
02:55 pm: The next 25 years are very important for the development of Bengal. The development here in the next 5 years will lay the foundation for State's development in the next 25 years: PM Modi
02:53 pm: People of Bengal never lost hope despite betrayal by Didi and her cadre: PM Modi
02:51 pm: Bengal trusted Mamata Banerjee to bring in change but she betrayed its people, insulted them: PM Modi
02:49 pm: The dream of 'sonar bangla' will be fulfilled. Today, I have come here today to assure you of Bengal's development, to increase investment here, to protect Bengal's culture and to bring change: PM Modi
02:46 pm: In this Assembly elections, there are TMC, Left & Congress, and their anti-Bengal attitude on a side. On the other side, there are people of Bengal: PM Modi
02:44 pm: Bengal wants 'shanti', 'sonar Bangla', 'pragatisheel Bangla': PM Modi
02:41 pm: This Brigade Parade Ground has been witness to many great leaders and also witnessed those who have disrupted West Bengal's progress. People of Bengal never left their hopes for change: PM Modi
Ahead of the prime minister's rally, Bollywood veteran Mithun Chakraborty had joined the Bharatiya Janata Party (BJP) today. Chakraborty arrived at the ground at around 12 noon and was welcomed by the BJP's National General Secretary Kailash Vijayvargi and other state leaders. Sources said while coming to the rally, Chakraborty's car was stopped midway near Bowbazar as BJP supporters spotted the superstar sitting in his white SUV.
Security arrangements for PM Modi's rally
For the prime minister's rally, more than 1,500 CCTV cameras were installed across the city for security purposes. Drone cameras were also used to monitor the venue. Nearly 7 lakh people attended the prime minister's rally today.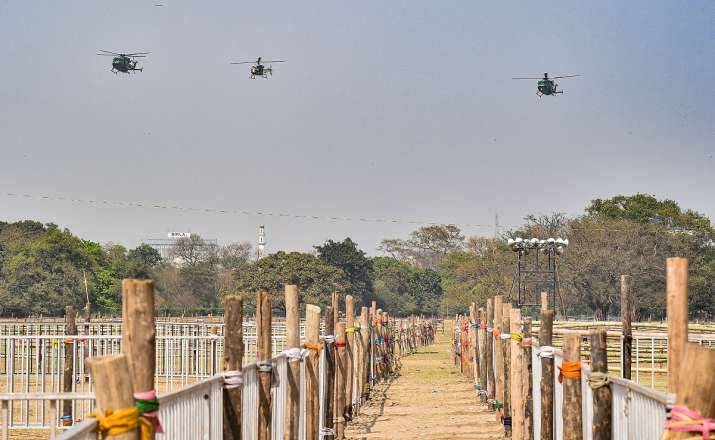 Along with the main stage which is 72-feet long, two other stages were also set up, one for Tollywood actors and another for important personalities present at the rally. The two stages were 48-feet length, 24-feet width and 7-feet height.
Special Protection Group and Kolkata Police had deployed special units for the security of the rally.
Three main barricades had been strategically placed toward the main stage for security purposes. Barricades and a helipad were created at the Race Course near the Brigade Ground.
Bharatiya Janata Party had also installed LED screens on the ground for the convenience of the people.
After winning 3 seats in the 2016 Assembly election in West Bengal, the BJP made deep inroads in the state in the 2019 Lok Sabha elections winning 18 seats and reducing TMC's tally to 22. Out of the total 42 Lok Sabha constituencies in West Bengal, Congress won two seats, the Left drew a blank.
According to sources, Prime Minister Modi will address 20 rallies in poll-bound West Bengal responding to the huge demand of local Bharatiya Janata Party (BJP) leaders of the state.
The rallies will cover all the 23 districts of West Bengal.
West Bengal Assembly elections will be held in eight phases starting from March 27 with the final round of voting taking place on April 29. The counting of votes in the state will take place on May 2.