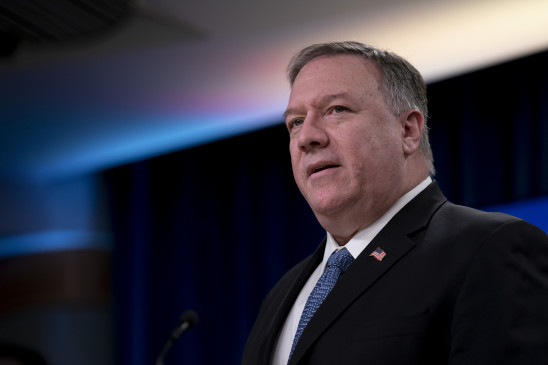 New Delhi, 27 October (IANS). US Secretary of State Mike Pompeo said in the national capital on Tuesday that India and the United States need to jointly confront China's threats to security in the Indian subcontinent and the Indo-Pacific region.
During the third Indo-US two-to-two talks in New Delhi amid ongoing deadlock with China near the Line of Actual Control (LAC) in eastern Ladakh, Pompeo announced several important initiatives, including cooperation on defeating the Corona epidemic that began in China's Wuhan province Issues discussed.
It was also negotiated with the US Secretary of State to counter the Chinese Communist Party's threats to security and freedom, promoting peace and stability throughout the region.
According to an official statement by the US government, India's Foreign Minister S.K. Jaishankar raised the issue of the security threat India is facing with China. "In the field of defense, we have been challenged by indiscriminate aggression on our northern borders," he said in the bilateral talks.
The significance of this meeting is believed to be because the US secretaries of the Trump administration traveled to New Delhi amid a coronavirus epidemic and even a large-scale campaign for the presidential elections to be held in the US on November 3 Despite this the trip was organized.
"Our friendship and commitment to a free and open Indo-Pacific is clearly at a high level," Pompeo told his Indian counterpart, when we were in Tokyo for a quad meeting earlier this month and Minister Jaishankar and I were in our Australian And was with Japanese friends.
The US Secretary of State said, "Today is a real opportunity for two great democracies like us to grow more," as I said on my visit to India last year, when I called for a new spirit in our relations. . I think it has been worked on over the past year. Much more work has to be done to ensure this.
He said, India and America together are creating a better future for our people based on our shared values and our cultures, our defense relations, scientific cooperation and mutual prosperity. I thank your leadership as well as all of you for building the defining partnership of democratic countries in the 21st century.
Jaishankar said in the two plus two talks that since the global economy has suffered extensively due to the coronavirus epidemic, the Indian government has to compensate for this loss soon, as the economic slowdown will have both domestic and external consequences.
In a meeting with his counterpart Defense Minister Rajnath Singh, Defense Minister Mark T. Esper marked Tuesday as the 15th anniversary of the first US-India defense framework, according to a US State Department statement.
"We have since strengthened our defense and security partnership, especially in the last one year, during which we have advanced our regional security, military-to-military and information-sharing cooperation," he said. Our focus should now be on institutionalizing and regularizing our cooperation as well as facing the challenges of today and maintaining the principles of an independent and open Indo-Pacific in the future.
AKK / SGK