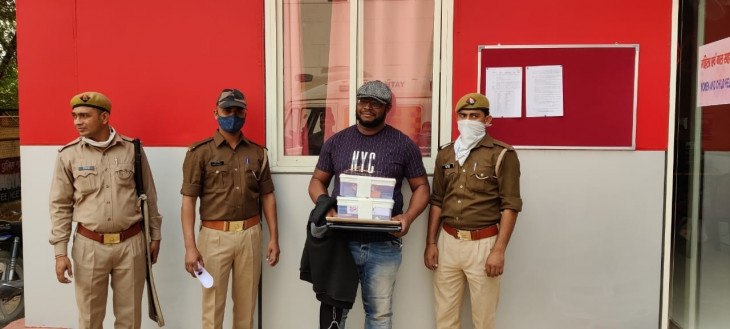 Gautam Buddha Nagar (Noida), 29 October (IANS). On Wednesday, two foreign nationals were arrested for cheating crores by cloning ATM cards by the Cybercrime Team of Police Commissionerate Gautam Buddha Nagar.
One accused is from Nigeria and the other is a resident of Kenya. Police have recovered 96 rewritable ATM cards, 2 card cloning modules, 2 laptops etc. from their possession.
The police department made it clear that on Wednesday, two accused of the Inter-State African Gang, who cheated crores of rupees by cloning ATM cards by cybercrime cell, have been arrested from Casa Grand Society, Greater Noida.
96 rewritable ATM cards, two card cloning modules, two laptops, seven mobile phones, two pinhole cameras, three pinhole camera batteries, one datacard, two pendrive, one memory card, 17 seat debit card data, other electronic from the possession of the arrested accused Equipment and Rs 10,000 cash have been recovered.
Both the accused were currently residing at the Casa Grand Society of Greater Noida on a study visa. There are hundreds of cases against both in the district. A cyber cell investigation revealed that both Noida, Greater Noida, Ghaziabad, Faridabad, Gurugram and Delhi were also active in the crime of illegally withdrawing money from ATMs by cloning ATM cards.
Additional DCP Cybercrime Ankur Aggarwal said, both the accused used to withdraw money from different places by cloning the card and storing the information inside each other card. Police have recovered about 90 such cloned cards from them.
The police is now gathering evidence that how they have transferred the money that has gone into their accounts and the money that they have withdrawn from the accounts. In this entire investigation, the police have revealed the incidents that have taken place in about 94 different places. Foreign citizens who are arrested are between 40 and 45 years of age.
The police had been receiving complaints from people for a long time that debit cards remain in their pockets and withdrawals from their accounts. Taking investigation of the complaint seriously, it was found out that this incident has happened more with the residents of Greater Noida. At the same time, the police then started investigating this whole episode, after which both these accused could be arrested.
MSK / SGK