to force Center to repeal agriculture law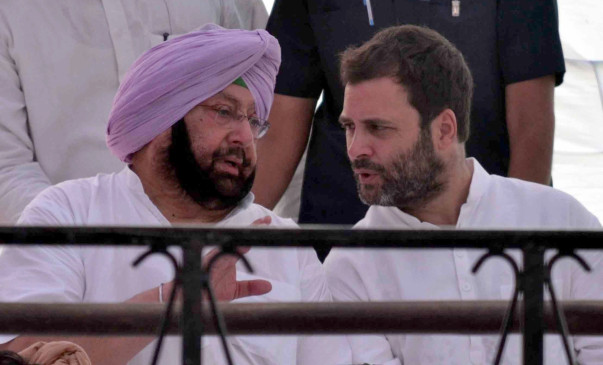 Chandigarh, October 17 (TNN). Punjab Chief Minister Amarinder Singh, along with Congress leader Rahul Gandhi, promised on Saturday that he would continue to force the central government to repeal strict agricultural laws.
Both said that these laws will be debated in a special assembly session on Monday with a view to dealing with the harmful effect on farmers.
Amarinder Singh said that his government will take all steps to counter these black laws and protect the farmers of Punjab. He said that he would spend every single day of his life for the revival of Punjab.
Singh said, whatever time I have left, I will fight for the farmers and every other section of the state's population.
While welcoming the Chief Minister's decision to convene a special session, Rahul Gandhi said that the voice of the farmers is echoing in Parliament, but now it will continue to resonate in the Punjab Legislative Assembly and will resonate in every part of the country, until the Central Government agrees with the Agricultural Laws. Do not be forced to withdraw.
He said, if these laws are in the interest of farmers, then why did the BJP-led government at the Center not allow them to be debated in Lok Sabha and Rajya Sabha.
Former Congress Party President and MP Rahul Gandhi along with Punjab Chief Minister Amarinder Singh addressed the digital launch of Smart Village Campaign Phase-2 in Punjab on Saturday through video conferencing.
Rahul Gandhi said, I want to assure the sarpanches that the Congress will always be with you and fight for every farmer, laborer and poor in Punjab.
During this time all the representatives of Punjab Gram Panchayats participated in the virtual launch program.
Condemning the agricultural laws as a massive attack by the BJP on the souls of every farmer in the country, Rahul said that the Center has attacked Punjab and its farmers with these malicious and unconstitutional laws.
He said, every farmer and laborer is feeling the pain of this attack.
Rahul announced that the Congress will not let the foundation of India be weakened in this manner and will do its best to strengthen these foundations.
Stating that previous decisions of the BJP government at the Center have completely demolished the economy and mass unemployment has increased. The Congress leader congratulated Amarinder Singh on creating jobs for the youth.
Punjab Congress President Sunil Jakhar also targeted the BJP on agricultural laws.
AKK / SGK