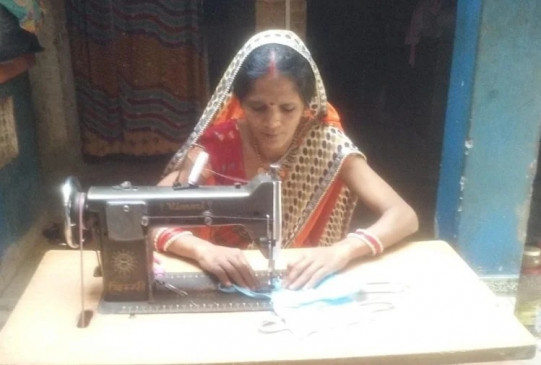 Barabanki (UP), October 26 (IANS). Ever since Prime Minister Narendra Modi has named Suman Devi in his Mann Ki Baat program, there is no place for his happiness.
Modi had mentioned Suman's name while praising the women's self-help groups of Barabanki making masks. Although Suman could not listen to Sunday's program, but when she came to know about it, she was not happy.
Suman said, what could be bigger than this, that the Prime Minister gave attention to this initiative and this encouraged us to work hard.
Suman Devi, a resident of Gurudutt Kheda of Triveniganj block in Barabanki, started the mother Vaishno Self Help Group in August 2016 along with 11 other women including Subhadra Devi, Vimala Devi, Sunita and Renu. The group helps women become self-sufficient by making masks, growing peppers and tomatoes.
Suman Devi said, We discussed with the block's mission manager about making masks and started making Khadi masks at home. Initially we made 70 masks and distributed them to the needy people.
After the relaxation of the lockdown, work was increased by buying more cloth from the market. This not only helped the women of the group but also helped the men to fight the corona infection.
Suman Devi, who has studied till graduation, told that we had received Rs 1.10 lakh in the Community Investment Fund initially. 4 members started their business with Rs. 12,500. I am making masks, Sunita has started chili cultivation and Renu is selling tomatoes grown in a nursery. Mayawati has started a grocery store. The fund received from the government does not attract interest but the members of self-help groups have taken it at one percent interest so that other members can also become empowered.
Meanwhile, District Magistrate of Barabanki, Dr. Aadarsh Singh, thanked the Prime Minister for praising the efforts of the Self Help Group. He said, I am thankful to the Prime Minister for sharing Suman Devi's story with the entire country and recognizing and appreciating our efforts. This is the third time in a year that the Prime Minister has mentioned Barabanki in his Mann Ki Baat program.
Earlier, the Prime Minister praised the district for the revival of Sarahi Lake and Kalyani River in Barabanki.
Sdj-skp